News from Atelier Clot, Bramsen & Brunholt
Atelier Clot opens gallery in Svendborg
We are very pleased to be able to say that Atelier Clot, Bramsen & Brunholt are now opening a physical gallery and lithographic workshop in Svendborg. The gallery will be located on Frederiksøen – part of Svendborg Harbor – in the old shipyard buildings. The location is completely unique in the middle of Svendborg's unique maritime environment. We become part of Frederiksø Kunst og Kultur, which is a community of maritime professions and diverse cultural initiatives. We are very much looking forward to getting started and expect to be able to invite to the first vernissage the last weekend in February.
New exciting works by Peter Martensen are being worked on in Paris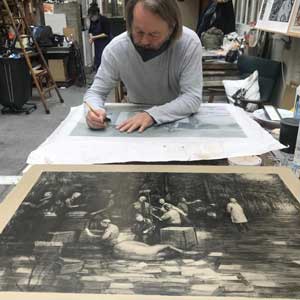 We have just had the pleasure of having a visit from Peter Martensen, who is in full swing performing new lithographs at the workshop in Paris. Peter was born in 1953 in Odense and educated at the Funen Art Academy in Odense 1971-1977 and the Art Academy in Copenhagen 1982-1984. He lives and works in Odsherred. Solo exhibitions around the world. This is Peter's first visit to Paris, but we are already looking forward to welcoming him again soon.
Welcome to Atelier Clot, Bramsen & Brunholt's new website
Our new website is in the air. We hope you will find it inspiring and manageable. All works are either divided into artist category or an overall overview. The website is in Danish, English and French.
Works Art Fair // 30.04.-02.05.2021
Works Art Fair is a new and ambitious art fair in Aarhus with an international edge. Look more at www.worksartfair.dk
Godsbanen, Rå Hal, entrance 3C, Skovgaardsgade 3, 8000 Aarhus C
BOLIG MAD DESIGN // 19.03.-21.03.2021
Denmark's most delicious housing and lifestyle fair in Odense. All the best in housing, fashion, lifestyle, design and gastronomy. Look more at www.boligmaddesign.dk
Ørbækvej 350, 5220 Odense


Enter Art Fair 2020 // 27.08.-30.08.2020
Innovative new art fair in Tunnelfabrikken, Copenhagen – see more www.enterartfair.com
Art Herning 2020 // 24.01.-26.01.2020
Art Herning 2019 // 01.02.-03.02.2019
Art Herning 2018 // 26.01.-28.01.2018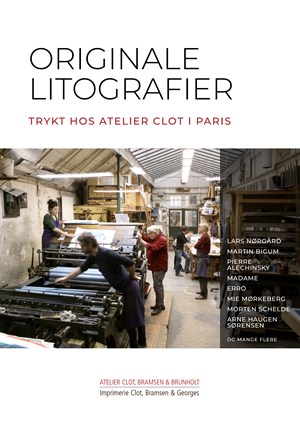 Read our inspiration magazine online. Here you will find examples of new releases. Exciting stories about e.g. how the world's largest lithograph became a reality. Or Pierre Alechinsky's first meeting with the workshop in Paris and much more …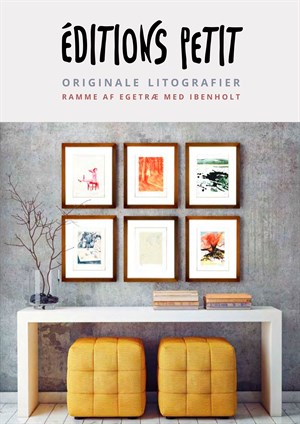 Framed graphics in beautiful handmade frames of linden wood with inlays of ebony. All works are in limited edition, numbered and signed by the artists. Read our online catalog and be inspired.