News from Atelier Clot, Bramsen & Brunholt
Article in Kunstavisen, May 21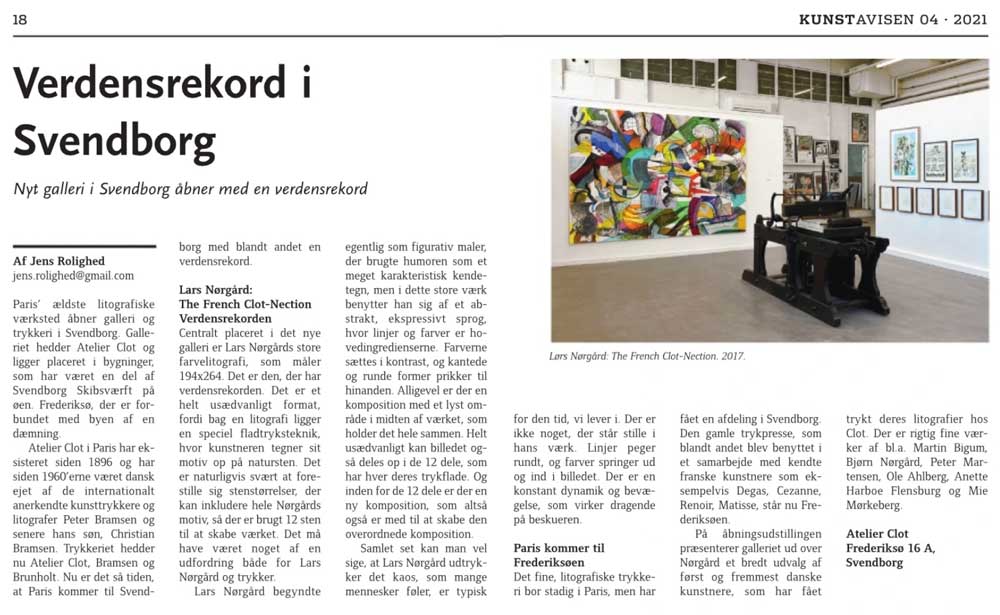 Article about the opening of a gallery in the weekly newspaper Svendborg
Paris comes to Frederiksø: Art in international class on the way to Svendborg
Read the whole article here: https://ugeavisen.dk/ugeavisensvendborg/artikel/paris-kommer-til-frederiksø-kunst-i-international-klasse-på-vej-til-svendborg
Press release
PARIS 'OLDEST LITHOGRAPHIC WORKSHOP OPENS GALLERY AND PRINTING IN SVENDBORG
Atelier Clot in Paris has existed since 1896 and has since the 1960s been Danish owned by the internationally renowned art printers and lithographers Peter Bramsen and later his son Christian Bramsen. Peter Bramsen now lives in Svendborg. Christian Bramsen is responsible for the daily operations in Paris. The Danish publisher, Atelier Clot, Bramsen & Brunholt, which is owned by Christian Bramsen and Morten Brunholt from Lundeborg on Funen, has in the Nordic countries for the last 15 years presented the works, all printed in Paris, at personal visits and fairs. Now is the time to open a gallery and expand the printing business in Denmark.
Over the past year, Atelier Clot has been looking for the right premises. So when Svendborg Municipality sought partners to make "Frederiksø Kunst & Kultur" Svendborg's cultural and maritime gathering point for the citizens, we could immediately see that we wanted something to contribute here. That the area, which was previously the address for Svendborg Shipyard, is absolutely fantastic with the maritime environment and soul made this the perfect place for Atelier Clot! We are confident that we will be an asset to the community and see it as a unique opportunity to get Danish and international art to not just Frederiksø, but to Svendborg. This will attract audiences and artists from Denmark, France and the rest of Europe.
THE PROJECT »PARIS COMES TO FREDERIKSØ«
Our ambitions with this project are to create a cultural space that both focuses on preserving and developing the old craft lithography and at the same time provide the users of Frederiksø with artistic experiences of international class. Through our large network, we will invite Danish and internationally renowned artists to work in the workshop and at the same time give them the opportunity to exhibit the works that are produced. The gallery will exhibit works with the already associated artists such as. Professor Bjørn Nørgaard, sculptor; Martin Bigum, visual artist and known from the Art Quiz on DR and Lars Nørgård with whom we in 2017 published the world's largest lithograph entitled The French Clot-Nection. The work can be experienced in the gallery in Svendborg.
It is also our ambition to make historical exhibitions in the gallery with i.a. the well-known artist faction COBRA group, which spoke members such as Asger Jorn, Pierre Alechinsky, Corneille, Carl-Henning Pedersen and others. who have all performed works at the workshop in Paris.
We will continuously set up new exhibitions. At least 4 times a year, openings will be arranged which will be open to all interested parties. It will be announced in the press and on social media. The exhibitions will then be available during the gallery's opening hours. The gallery will be open all year round. In connection with the exhibitions, we will also arrange "talks", where artists or other cultural personalities will talk about different themes within the art world. There will be open workshop days where interested parties can get to know the rare and exciting craft for free.
ATELIER CLOT – SINCE 1896
Atelier Clot is today the oldest workshop for printing original lithographs in Paris. The lithograph originated in 1796, when German Aloys Senefelder experimented with the technique, and initially used it as an inexpensive method of reproducing theater posters. 100 years later, the French lithographer Auguste Clot, as one of the first, opens his eyes to the technique as an independent art form. It became a great way to make original art – and at the same time make it accessible to a wider audience.
was founded by Auguste Clot back in late 18th century, where he was known as the Capital's finest Art Printer. From 1896, the most beautiful masterpieces signed by Impressionists such as Degas, Cézanne, Renoir, Sisley, Redon, Bonnard, Vuillard, Signac, Munch, Rodin and many others were printed on Clots presses. Auguste Clot continued as manager of his studio until 1934, when his son André succeeded him, with rouault, Matisse, Denis, Roussel, Guillaumin, Foujita and others also working. Peter Bramsen became co-owner in 1963 and in 1965 the publishing house Éditions Atelier Clot was established.
The workshop moves in 1968 from Rue du Cherche-Midi to larger premises in Rue Vieille du Temple in the middle of the Marais district. Here come skilled craftsmen and renowned artists to work on stone. Among the names are Asger Jorn, Pierre Alechinsky, Bram Van Velde, Lindstrøm, Wyckaert, Pol Bury, Topor, Arman, Saura, Bjørn Nørgaard, Voss, Toledo, Michaux and others. Christian Bramsen became a partner in 1988 and he is a guarantee that the high standard will continue. Christian Bramsen is Internationally oriented, he arranges retrospective exhibitions all over the world, mostly focusing on a specific artist and his works created at the workshop.
In 2004, Morten Brunholt takes over the representation of the workshop and publishing house in Scandinavia. In 2013, Christian Bramsen and Morten Brunholt set up the Danish publishing house Atelier Clot, Bramsen & Brunholt.
In Easter 2021, a gallery and lithographic workshop will open on Frederiksø in Svendborg. The day-to-day managers are Charlotte and Morten Brunholt.
———————————————————
FACTS
* Atelier Clot is Paris' oldest art printing house.
* Atelier Clot, Bramsen & Brunholt are today owned and operated by Christian Bramsen who lives in Paris and Morten Brunholt who lives in Lundeborg on Funen.
* Over the years, the workshop has worked with Lautrec, Degas, Cézanne, Renoir, Sisley, Redon, Bonnard, Vuillard, Signac, Munch, Rodin, Rouault, Matisse, Denis, Roussel, Guillaumin, Foujita, Asger Jorn, Pierre Alechinsky, Bram Van Velde, Lindstrøm, Wyckaert, Pol Bury, Topor, Arman, Saura, Bjørn Nørgaard, Voss, Toledo, Michaux, Lars Nørgård, Martin Bigum, Peter Martensen, Mie Mørkeberg, Trine Boesen, Anette Harboe Flensburg m.fl.
* The gallery will open on April 2, 2021.
* See more at www.atelierclot.dk.
———————————————————
CONTACT
Atelier Clot, Bramsen & Brunholt
Frederiksø 16A, 5700 Svendborg
Charlotte Brunholt, tel. 20766850
Morten Brunholt, tel. 60882670
galleri@atelierclot.dk
www.atelierclot.dk
Atelier Clot opens gallery in Svendborg
We are very pleased to be able to say that Atelier Clot, Bramsen & Brunholt are now opening a physical gallery and lithographic workshop in Svendborg. The gallery will be located on Frederiksøen – part of Svendborg Harbor – in the old shipyard buildings. The location is completely unique in the middle of Svendborg's unique maritime environment. We become part of Frederiksø Kunst og Kultur, which is a community of maritime professions and diverse cultural initiatives. We are very much looking forward to getting started and expect to be able to invite to the first vernissage the last weekend in February.
New exciting works by Peter Martensen are being worked on in Paris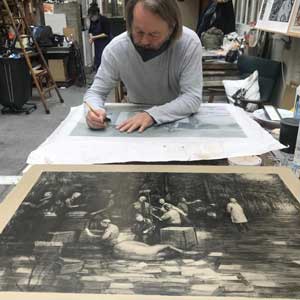 We have just had the pleasure of having a visit from Peter Martensen, who is in full swing performing new lithographs at the workshop in Paris. Peter was born in 1953 in Odense and educated at the Funen Art Academy in Odense 1971-1977 and the Art Academy in Copenhagen 1982-1984. He lives and works in Odsherred. Solo exhibitions around the world. This is Peter's first visit to Paris, but we are already looking forward to welcoming him again soon.
Welcome to Atelier Clot, Bramsen & Brunholt's new website
Our new website is in the air. We hope you will find it inspiring and manageable. All works are either divided into artist category or an overall overview. The website is in Danish, English and French.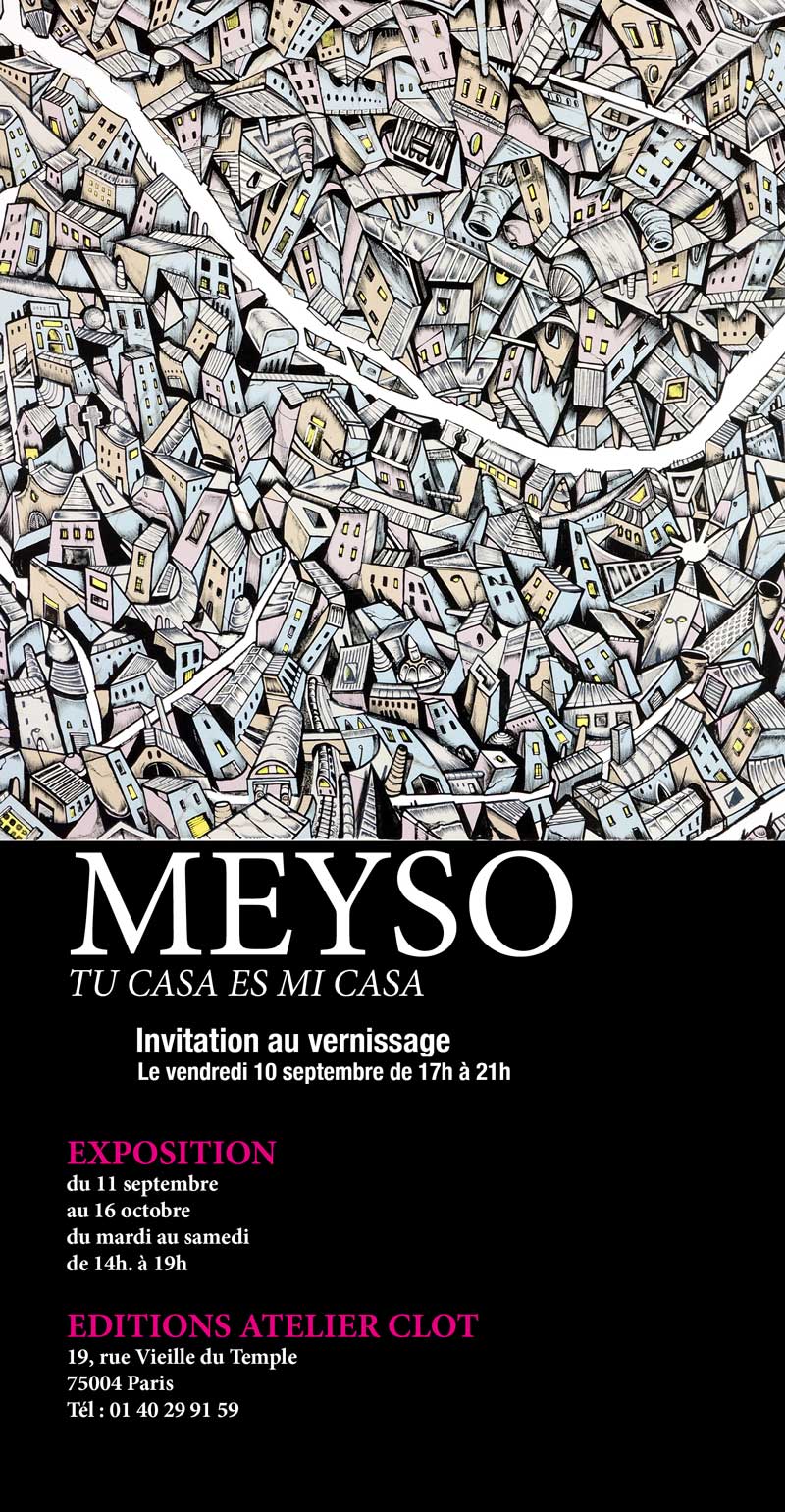 Exhibition with Meyso // 11.09.-16.10.2021
Solo exhibition with Meyso, street artist from Paris.
Opening 10.09.21 at 17-21.
ATELIER CLOT, BRAMSEN & Co, 19 rue Vieille du Temple, 75004 Paris
Works Art Fair // 26.09.-19.09.2021
Works Art Fair is a new and ambitious art fair in Aarhus with an international edge. Go to www.worksartfair.dk
Godsbanen, Rå Hal, indgang 3C, Skovgaardsgade 3, 8000 Aarhus C
Enter Art Fair 2021 // 27.08.-29.08.2021
Innovative new art fair in Tunnelfabrikken, Copenhagen – see more www.enterartfair.com
Urban Art Fair // 10.06.-13.06.2021
The Urban Art Fair is the first international fair dedicated to urban art. Go towww.urbanartfair.com
Le Carreau du Temple, 90 rue de la Folie-Méricourt, 75011 PARIS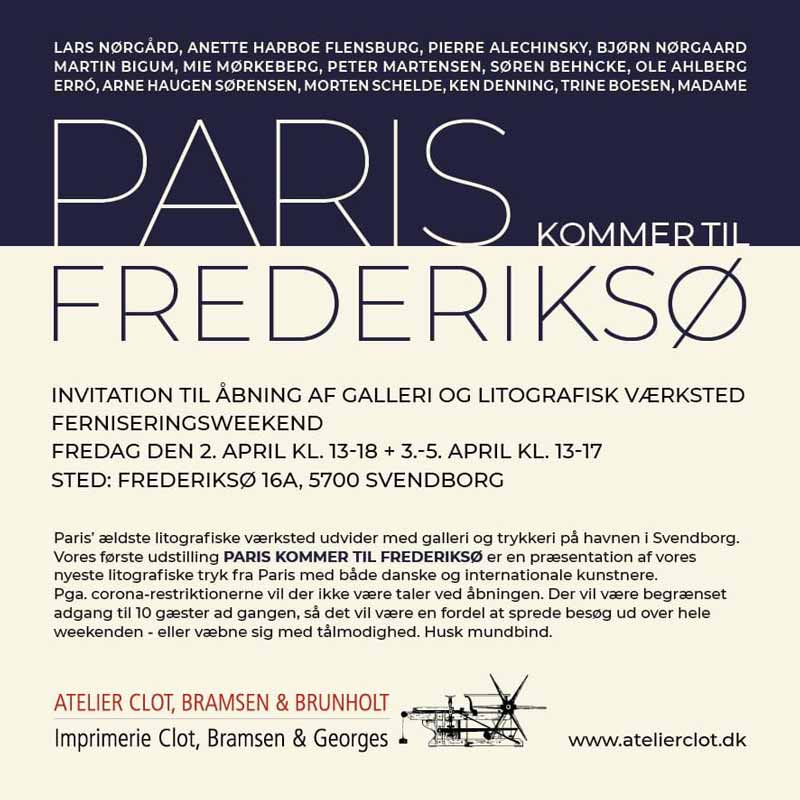 Opening of gallery and lithographic workshop // 02.04.-05.04.2021
The gallery opens and we hold OPENING WEEKEND from Friday the 2nd of April to Monday the 5th of April. Opening hours are Friday 13-18 and Saturday, Sunday and Monday at 13-17. Everyone is welcome! Due to the corona restrictions, there will be no speeches at the opening. There will be a limited number of guests, so it will be an advantage to spread visits throughout the weekend – or arm yourself with patience. Remember bandages.
Frederiksø 16A, 5700 Svendborg, galleri@atelierclot.dk
BOLIG MAD DESIGN // 19.03.-21.03.2021
Denmark's most delicious housing and lifestyle fair in Odense. All the best in housing, fashion, lifestyle, design and gastronomy. Look more at www.boligmaddesign.dk
Ørbækvej 350, 5220 Odense

Enter Art Fair 2020 // 27.08.-30.08.2020
Innovative new art fair in Tunnelfabrikken, Copenhagen – see more www.enterartfair.com
Art Herning 2020 // 24.01.-26.01.2020
Art Herning 2019 // 01.02.-03.02.2019
Art Herning 2018 // 26.01.-28.01.2018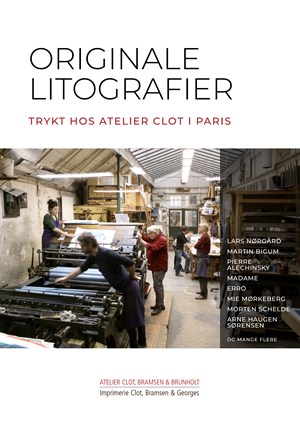 Read our inspiration magazine online. Here you will find examples of new releases. Exciting stories about e.g. how the world's largest lithograph became a reality. Or Pierre Alechinsky's first meeting with the workshop in Paris and much more …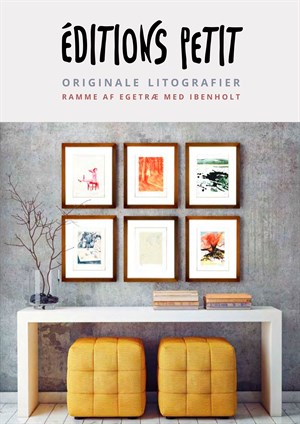 Framed graphics in beautiful handmade frames of linden wood with inlays of ebony. All works are in limited edition, numbered and signed by the artists. Read our online catalog and be inspired.