Gallery and lithographic workshop
Our gallery and lithographic workshop is beautifully located on Frederiksø by the harbor in Svendborg. The premises have previously housed Svendborg Shipyard and therefore exude history and the maritime environment that is characteristic of Svendborg.
The ambition with this place is to create a cultural space that both focuses on preserving and developing the old handicraft lithography and at the same time giving the users of Frederiksø artistic experiences of international class.
The gallery has changing exhibitions by the artists associated with the publisher Atelier Clot, Bramsen & Brunholt. In connection with the exhibitions, we will also arrange "talks", where artists or other cultural personalities will talk about different themes within the art world. There will be open workshop days where interested parties can get to know the rare and exciting craft for free.
Opening hours
Thursday 13-17
Friday 13-17
Saturday 11-14
Or by appointment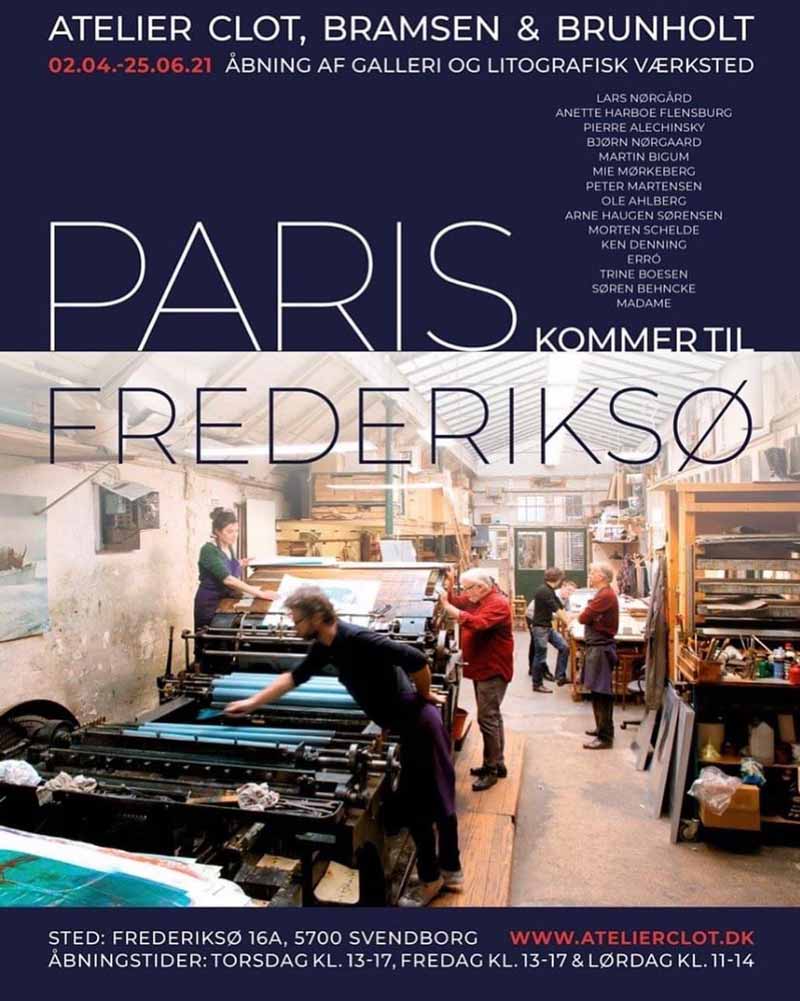 PARIS COMES TO FREDERIKSØ
OPENING WEEKEND
FRIDAY 2 APRIL 2021 KL. 13-18
SATURDAY 3 APRIL 2021 KL. 13-17
SUNDAY 4 APRIL 2021 KL. 13-17
MONDAY 5 APRIL 2021 KL. 13-17
Thereafter, the opening hours are as above.
Our first exhibition in the gallery is a group exhibition with a large number of the Danish and international artists associated with the publisher. We will present a large number of the latest lithographs that have been printed at the workshop in Paris. In addition, the world's largest lithograph by Lars Nørgård can be experienced in the gallery.
THE EXHIBITION SHOWS FROM APRIL 2 TO JUNE 25, 2021.
Due to the corona restrictions, there will be no speeches at the opening. There will be a limited number of guests, so it will be an advantage to spread visits throughout the weekend – or arm yourself with patience. Remember bandages.