OBRA GRÁFICA
LITHOGRAPHS & ETCHINGS
On October 7th, an exciting exhibition opens at Atelier Clot in Svendborg, presenting an impressive collection of artist Miquel Barceló's works. The exhibition is a unique opportunity to dive into the talented Spanish artist's universe and explore his masterpieces in etching and lithography, which he has created at the famous Atelier Clot in Paris.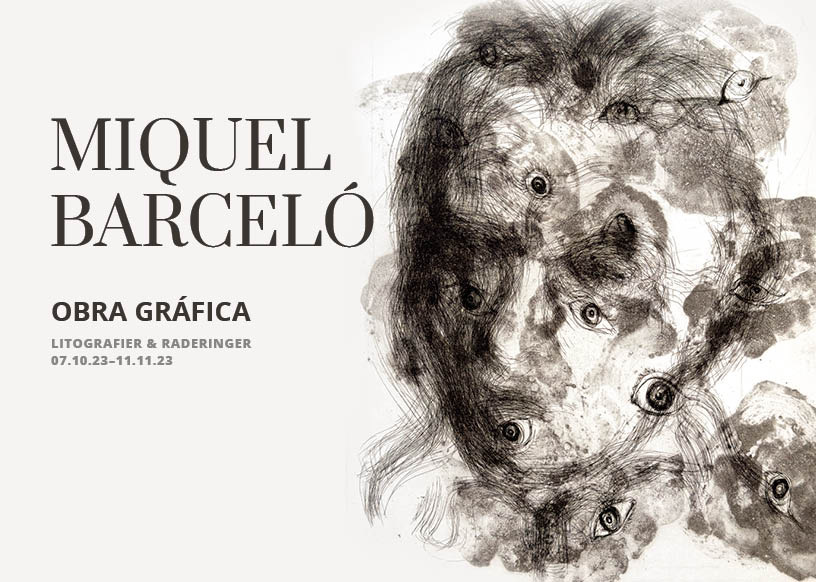 OPENING
Saturday, October 7th
2pm-4pm
The artist will be present at the opening. Admission is free.
The exhibition is shown
Oct. 7. – Nov 11, 2023
FREE ENTRY
Atelier Clot, Bramsen & Brunholt
Frederiksø 16A
5700 Svendborg
Opening hours:
Thursday 1pm-5pm
Friday 1pm-5pm
Saturday 12-14pm
It is possible to book a private viewing for art associations, companies, museums or larger groups. Contact us by email: galleri@atelierclot.dk or phone +45 93 20 68 50.
LITHOGRAPHS AND ETCHINGS
CATALOGUE RAISONNÉ
MIQUEL BARCELÓ – OBRA GRÁFICA
Miquel Barceló, born January 8, 1957 in Mallorca, Spain, is an internationally recognized artist. He is known for his unique approach to materials and techniques and his ability to merge traditional and modern art forms.
Barceló has worked in various media, including painting, sculpture, ceramics and prints. His artworks are often characterized by his fascination with nature and the expressive forms found in it. He manages to create intense and profound works that showcase his technical skills and attention to detail. Barceló made his first lithographs at Atelier Clot in 1983 and has had a keen interest in graphics from the start of his career.
Barceló was introduced to art through his mother, who was a painter. He showed an early fascination with art and started painting at a young age. He received his first art lessons at the art school in Palma de Mallorca and continued his studies at the Academy of Fine Arts in Barcelona in 1974. It was here that Barceló was introduced to the contemporary art scene and began exploring new materials and techniques. He got his big break in the 80s when he was chosen to represent Spanish painting at Documenta in Kassel, one of the most prestigious art exhibitions in the world. His recognition and popularity continued to grow. His works were noted for their unique style that combined abstraction with figurative expression and he used a wide range of materials such as sand, clay, stone and paint.
Although he has deep roots in Spain, Barceló draws inspiration from his stays in the different places he has worked. Barcelona, Portugal, Palermo, Paris, Geneva, New York, the Himalayas and West Africa in addition to his native Mallorca. The varied landscapes he has traveled through have influenced and shaped his work, and his art transforms as he experiences new environments around the world – from the arid deserts of Africa to the rocky landscapes and underwater universe of the Balearic Islands.
In 1990, Barceló began a series of bullfighting scenes inspired by a commission to create a poster for the 1988 Nîmes Bullfighting Festival. In these works, Barceló creates remarkably textured surfaces that are filled with dynamism and swirling energy. There's a clear parallel between how he creates his surfaces and how the toreador works through the sand in the arena. Some of the bullfighter motifs are on display at the exhibition in Svendborg.
Richly represented in prestigious museums around the world, Barceló's work includes the Santísimo Chapel in Palma de Mallorca Cathedral and the dome of the "Human Rights and the Alliance of Civilizations" at the United Nations in Geneva, where he covered the massive vaulted ceiling of the room with multicolored stalactite-like shapes painted with pigments from around the world.
The exhibition at Atelier Clot is a unique chance to experience Miquel Barceló's talent and skill in etching and lithography. Visitors will be able to admire works of art that represent a perfect balance between technical precision and artistic creativity. So mark your calendars for October 7th and let yourself be enchanted by Miquel Barceló's amazing artwork.
Etching
Etching is a graphic printing technique where an image surface is engraved or etched onto a metal plate, usually copper or zinc. The plate is coated with ink and the excess ink is removed from the carved parts. Paper is now pressed against the plate and the image is transferred to the paper, creating the printed image. Etching is known for its depth and detail, as the engraved lines can create a wide range of shades and tones in the print.
Lithography
Lithography is a technique that uses a limestone with a porous surface to transfer an image onto paper. The artist draws or paints directly on the stone with a greasy pencil or ink. When the stone is moistened and rolled with oil paint, the paint adheres only to the oily areas. Paper is pressed against the stone and the image is transferred to the paper. Lithography allows the artist to work with different textures and colors to create unique visual effects.