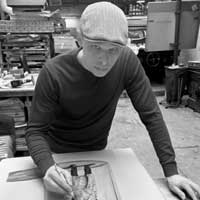 Dennis Kristensen
Born in 1983 in Nibe. Lives and works in Aalborg.
Dennis Kristensen is a Danish self-taught artist. He has previously worked in the production of Danish design furniture and is a trained carpenter. But art has always been a big part of Dennis' life. And just under five years ago, his career really took off. He is invited to Jacob Rantzau's studio, where sparring and, above all, rigorous training really get things moving. He will have several solo exhibitions. He has also been presented at trade fairs at home and abroad with great success. Dennis Kristensen has now completed his first lithographs in our Paris workshop.
Original lithographs for sale by Dennis Kristensen
A lithograph – also called lithography – is a technique that is almost 250 years old. In short, it is a limestone that serves as the artist's canvas. Dennis Kristensen draws the motif directly on the stone with a greasy pencil – one color at a time. Then the edition is printed with the desired color. The stone is then sanded, and is now ready for the artist to draw the next color. It is a slow process and it is not uncommon for there to be up to 5 layers of color in Dennis Kristensen's lithographs.
Printed in limited edition // Numbered and signed by the artist // FREE SHIPPING
If you wish to have lithographs framed – contact us on tel. 93 20 68 50 or kundeservice@atelierclot.dk