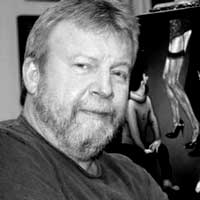 Ole Ahlberg
Born 1949.
Debuted in the 1970s and has since worked with collages, graphics and painting in increasingly demanding techniques necessary for his hyper-precise imagery. He's the man of the opposites. The well-known comic book character Tintin, whom we all know as an innocent and untouchable figure, often appears as the centerpiece of the artist's universe. But it is not in the usual context in which we see Tintin acting. In Ole Ahlberg's pictures, the young journalist is put into a sexual context that so strongly undermines our perception of this cozy but genderless figure. He is suddenly made into a male of flesh and blood, which may look puzzled, but on the end side is not pale to put his hand on the woman's buttocks. If it is not just Tintin that is confronted with the sensory world, then it might be a toy, a platter, a rocket, Hans Christian Andersen, etc.
Original Ole Ahlberg lithographs for sale
A lithograph – also called lithography – is a technique that is almost 250 years old. Ole Ahlberg's motifs are drawn and printed – one color at a time. It is a slow process and it is not uncommon for there to be between 20 and 30 color layers in Ole Ahlberg's lithographs. A lithograph is a print of the highest quality, which ensures a long shelf life for many years to come. Printed on acid-free cotton paper.
Printed in limited edition // Numbered and signed by the artist // FREE SHIPPING
If you want framing of lithographs – contact us on tel. +45 60 88 26 70 or kundeservice@atelierclot.dk
Exhibition with Ole Ahlberg in Svendborg
15.10.-26.11.2022 // Frederiksø 16A, Svendborg, DK
It is a great pleasure to present the autumn exhibition in the gallery at Frederiksø. This time it is a striking proof of the artist's right to express himself. An important battle has been fought over 12 years. A battle that came to be about the intersection between copyright and artistic freedom of expression. Tintin, who is otherwise known to be the epitome of justice, purity, neatness, has in the hands of Ole Ahlberg become erotic images where Tintin is often seen with naked or scantily clad women. This has resulted in a fantastic exhibition of oil paintings, sculptures, lithographs, copperplate prints and unique pieces that Ole Ahlberg has been generous enough to lend us from his own collections. The works span about 40 years.
ATELIER CLOT AND LITHOGRAPHY AS AN ART FORM
In 1896, Auguste Clot founded our lithographic workshop – he was one of the first to use lithography as an art form, with the aim of making art accessible to a wider audience. Back then, it was artists like Renoir, Degas and Toulouse Lautrec who suddenly became available to art lovers who only dared to dream of owning works of these names. But it was not only the price that made lithography the popular medium it is today. The textural expression in the cotton paper with the saturated color layer, the precise reproduction of the artist's drawing on the stone has made the art form a popular choice for artist as well as collector.
Today, it is still a popular choice. The artist is given the opportunity to challenge himself with a technique that, for most, is located a bit outside his own comfort zone.
Here it is a very close collaboration between lithographer and artist that gives the perfect result. To dare to let go of control a bit and see how a lithograph is built up color after color – to finally appear as a perfect and finished work!
In the decor, the lithograph is also an obvious choice. In modern decor, art has become an increasingly integrated part of the expression. Art is no longer something you only see in museums and galleries. It is possible to acquire good art for its interior which is not just a decoration, but something that tells a story and has a meaning. Here, our lithographs are obvious choices. The selection is large. There are lithographs for the Nordic muted interior and there is art for the more expressive expression.