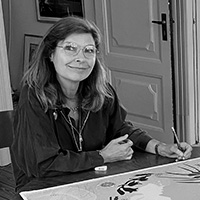 Pernille Egeskov
Born
in 1970. Graduated in 1997 as a costume designer from the Royal Danish Academy of Arts School of Design. In 2007, she made her debut as a visual artist at Charlottenborg's Spring Exhibition.Since then he has
worked
as an artist.
Pernille Egeskov is the initiator and director/curator of the exhibition platform Pop-Up Contemporary, a non-profit experimental space for significant artists and guest curators from home and abroad to test new artistic ideas and initiatives.
In her artistic practice, Pernille Egeskov works in a poetic universe with collages, objects and installations. Represented at: Vendsyssel Kunstmuseum, Bornholms Kunstmuseum, Randers Kunstmuseum, Designmuseum Danmark, Dinesen, Fritz Hansen, George Jensen Damask, NYKREDIT Art Collection. Nominated for the Nordic Award in Textiles 2017. Supported by: Statens Kunstfond. Grosserer L.F. Foghts Fond, Brdr. E., S. og A. Larsens
Legat
.
Original Pernille Egeskov lithographs for sale
A lithograph is a technique that is almost 250 years old. Pernille Egeskov works with collage in a completely new way where the motif is transferred – one colour at a time – and printed in the old printing press. It is a slow process and it is not uncommon for there to be between 15 and 20 layers of colour in Pernille Egeskov's lithographs.
Printed in limited edition // Numbered and signed by the artist // FREE SHIPPING
If you wish to have lithographs framed – contact us on tel. 93 20 68 50 or kundeservice@atelierclot.dk