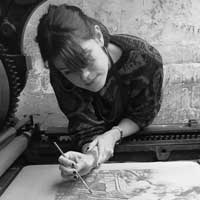 Karolina Orzelek
Born in Bielsko-Biala, Poland in 1992.
After graduating in 2011, Karolina Orzelek moved to France to start the Ecole des Beaux-Arts in Paris, where she joined the Philippe Cognée workshop and then Tim Eitel's workshop and graduated in 2016. She lives and works in Paris. In March 2020, she won the Sisley des Beaux-Arts de Paris pour la Jeune Creation.
Her works explore the perception of colors and augment the reality of a harmonious wonderland.