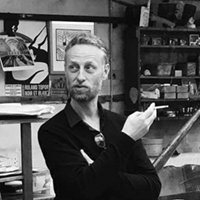 Søren Behncke
Born 1967 in Sønderborg.
Live and work in Copenhagen.
Søren Behncke has a background as an illustrator and graphic designer, but in 2003 changed his focus and began working with sculpture and painting instead. In Denmark, Behncke is best known by the alias 'Papfar' because of his spectacular happenings and stagings of cardboard sculptures in the public space. Among his works are a sculpture of a Massey Ferguson tractor in the size 1: 1, a cardboard rabbit fastened to a tree, various tools in cardboard, and a tribute to Jørgen Nash in the form of a 4 m long cardboard scraper in front of The Little Mermaid .