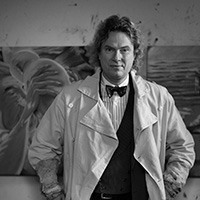 Martin Bigum
Martin Bigum (born October 8, 1966 in Frederiksberg, Denmark) is a Danish autodidact multi-artist who is known for his work as a painter. Bigum was known in the mid-Nineties for the character ART, a cutty-dressed figure that appeared in many of his paintings in the period from 1992-99. Bigum is a fixed panel participant in DR K's Kunstquizzen with Adrian Hughes as host. He is married to visual artist and costume designer Pernille Egeskov. Together they have two children and live in Frederiksberg, Copenhagen, where Bigum also has his studio.
Original Martin Bigum lithographs for sale
A lithograph – also called lithography – is a technique that is almost 250 years old. In short, it is a limestone that serves as the artist's canvas. Martin Bigum draws the motif directly on the stone – one color at a time. Then the edition is printed with the desired color. The stone is then sanded, and is now ready for the artist to draw the next color. It is a slow process and it is not uncommon for there to be between 10 and 20 color layers in Martin Bigum's lithographs.
Printed in limited edition // Numbered and signed by the artist // FREE SHIPPING
If you want framing of lithographs – contact us on tel. +45 60 88 26 70 or kundeservice@atelierclot.dk

Framed lithographs numbered and signed by the artist
Éditions Petit is a series of original lithographs in smaller formats, all printed in small editions at our lithographic workshop in Paris.
Our handmade frame is some of the finest craftsmanship you can find. The materials are carefully selected and composed so that it highlights the lithograph in the best way. The frame is made of solid linden wood with ebony inlays. The glass strip is in solid oak.
All lithographs are framed with white passepartout of acid-free paper.
The format of the frame is 32×39 cm – the format of the lithograph is 20×27 cm. Read more about the series here …