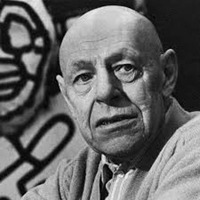 Jean Dubuffet
Born 1901 in Le Havre, France. Died 1985.
French sculptor and painter who in the 60s worked with sculptures of architectural character. During this period, he collaborated with i.a. Asger Jorn.
In addition to being an artist and sculptor, he also mastered lithographic printing, leaving behind a large back catalog of graphic works.