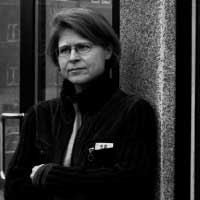 Anette Harboe Flensburg
Born 1961. Member of Danish Artists Association. 2005-08 The Danish Arts Foundation, member of the Commitee for Visual Arts Purchase and Grants. 2005- Member of the Artists Association Grønningen. 2000-02 Member of the Border cdb, DK. 1994-96 Study of Philosophy, University of Copenhagen, DK. 1981-85 The School of Art and Design, Kolding, DK.
Solo Exhibitions: 2017 The Black Nothing and its Impossible Shades, Galerie MøllerWitt, Aarhus, DK. 2017 La poétique de l'espace, La maison du Danemark, Paris. 2016 Politikens Galleri, Copenhagen. 'Space Without a Place', Kunsthal Brandts, Odense. 2015 The State of Mystery, Bendixen Contemporary, Kbh.
Original lithographs for sale by Anette Harboe Flensburg
A lithograph – also called lithography – is a technique that is almost 250 years old. In short, it is a limestone that serves as the artist's canvas. Anette Harboe Flensburg draws the motif directly on the stone – one color at a time. Then the edition is printed with the desired color. The stone is then sanded, and is now ready for the artist to draw the next color. It is a slow process and it is not uncommon for there to be between 10 and 20 color layers in Anette's lithographs.
Printed in limited edition // Numbered and signed by the artist // FREE SHIPPING
If you want framing of lithographs – contact us on tel. +45 60 88 26 70 or kundeservice@atelierclot.dk