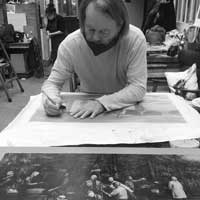 Peter Martensen
Born 1953 in Odense, Denmark.
Danish painter and graphic artist. Debuted in 1972. Graduated from the Funen Academy of Fine Arts in 1977, studied with Dan Sterup-Hansen at the Royal Danish Academy of Fine Arts from 1982-1984. Stylistically, he belongs to neo-realism and often uses photos as a starting point for his paintings. Peter Martensen has portrayed the former Speakers of the Folketing, Erling Olsen and Christian Mejdahl. The portraits hang in the Folketing. Other works have been exhibited at e.g. Kastrupgårdsamlingen, Statens Museum for Kunst, Vejle Kunstmuseum and Victoria and Albert Museum in London.

Framed lithographs numbered and signed by the artist
Éditions Petit is a series of original lithographs in smaller formats, all printed in small editions at our lithographic workshop in Paris.
Our handmade frame is some of the finest craftsmanship you can find. The materials are carefully selected and composed so that it highlights the lithograph in the best way. The frame is made of solid linden wood with ebony inlays. The glass strip is in solid oak.
All lithographs are framed with white passepartout of acid-free paper.
The format of the frame is 32×39 cm – the format of the lithograph is 20×27 cm. Read more about the series here …
Original lithographs for sale by Peter Martensen
A lithograph – also called lithography – is a technique that is almost 250 years old. In short, it is a limestone that serves as the artist's canvas. Peter Martensen draws the motif directly on the stone – one color at a time. Then the edition is printed with the desired color. The stone is then sanded, and is now ready for the artist to draw the next color. It is a slow process and it is not uncommon for there to be between 5 and 10 layers of color in Peter Martensen's lithographs.
Printed in limited edition // Numbered and signed by the artist // FREE SHIPPING
Framing of lithographs – contact us on tel. +45 93 20 68 50 or kundeservice@atelierclot.dk