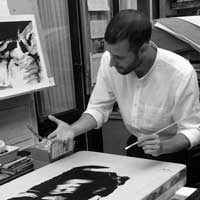 Silvère Jarrosson
Born in 1993 in Paris. He trained as a ballet dancer at the Opera National de Paris, but has been working in abstract painting since 2013. He received an award from the Fondation Claude Monet in 2018 and had a major exhibition at the Académie des Beaux Arts in Riga. He has also been at Villa Medicis in 2019 for a project, and Collection Lambert in 2020 and 2021, and has had many exhibitions both in France and abroad. His work is included in many collections, including Mobilier national.
Silvère Jarrosson's paintings can generally be associated with abstract expressionism of the second half of the 20th century, but he stands out for his original background as a classical dancer, which gives him a particular understanding of movement, and his scientific approach to image genesis (Silvère Jarrosson has a master's degree in biology on morphogenesis, the formation of forms in nature). In 2023, he will present a personal exhibition called "The Work to Come" at the Musée Unterlinden in Colmar.
Original lithographs for sale by
Silvère Jarrosson
A lithograph – also called lithography – is a technique that is almost 250 years old. In short, it is a limestone that acts as the artist's canvas. Silvère Jarrosson draws the motif directly on the stone – one colour at a time. Then the edition is printed with the desired color. The stone is then sanded, and is now ready for the artist to draw the next color. It is a slow process and it is not uncommon to have up to 10 layers of colour in the lithographs.
Printed in limited edition // Numbered and signed by the artist // FREE SHIPPING
Framing of lithographs – contact us on tel. +45 93 20 68 50 or kundeservice@atelierclot.dk