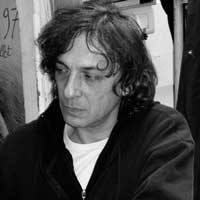 Jean Francois Peneau
Born in 1958 in Orleans, France. Lives and works in Paris.
Educated at the Royal Danish Academy of Fine Arts in Paris, graduated from November 1985.
In 1979, architectural illustrations on the theme of 'History and Architecture', from 1985 until 1993, carried out a series of perspective drawings and illustrations for various construction projects, including the creation of a european building project. idea and execution of material for project for the beautification of the suburbs in 1985-87, perspective drawings for the University of Agen in 1989, perspective drawings for the building SNC Fonta Compans Caffarelli, Toulouse, 1991, illustrations for housing and decoration of façades both in France and abroad, including in Toulouse in 1989 and 1990, as well as cartographic illustrations for, inter alia, the following: Région Midi Pyrénées in 1991. 2001 performed his first lithographs in Imprimerie Clot, Bramsen et Georges with Christian Bramsen for Editions Atelier Clot. 2003 performs the book "TETATET" with 8 lithographs as well as the series "PAYSAGE" to Editions Atelier Clot, Paris. 2007 "MIMETISMES" digital print published by Editions Atelier Clot.